Elegant Lace Cakes 
Discover Zoe's latest signature lace techniques with over 25 contemporary, and delicate cake decorating designs.
Learn the latest trends in Lace cakes with new products such as Sugarveil and Cake Lace, along side established techniques including embossing, piping, appliqué, and brush work.
Available to purchase via Amazon.com or Amazon.co.uk

Simply Perfect Party Cakes For Kids
Collection of 12 easy-to-achieve cake designs shows you that beautiful novelty cakes for children is not only possible but simple if you follow these clear step-by-step tutorials.These contemporary and desirable cakes for girls and boys include cake a baby elephant design, a 3D toy box cake, an enchanted garden design and a circus-inspired cake for younger children as well as a surfing cake, paintball cake and make-up cake for older children. Zoë will also teach you how to make 'surprise inside' cakes, which reveal a pattern when you cut into the cake.
Cake Decorating at Home
This book includes easy to follow step-by-step guides and simple techniques to create a variety of delightful cake and cookie designs.The book has 10 chapters, each chapter has a central theme with one main cake design and 2 smaller designs which can be made all together or individually.
Cupcake Love
Cupcake Love is part of the 'Bake Me I'm Your's' collection by David and Charles. The book includes 20 gorgeous cupcake designs for romantic occasions or simple to give to someone you love. You'll also find some fabulous mouthwatering cupcake recipes which are simple to make.
The Cake Parlour Sweet Tables
Bring some serious wow factor to your cake displays with a sumptuous sweet table combining cakes, cookies, cupcakes and more to stunning effect. Each stylish theme features a range of co-ordinating bakes and sweet treats to put together for a gorgeous display. Recreate each theme in full, or pick out individual elements to create a simpler baking display.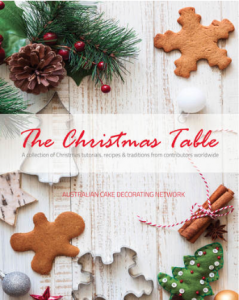 A Christmas Table – eBook
The Christmas Table' e-book features some of Australia and the world's best decorators, bakers and pastry chefs. We're sharing the Christmas spirit across the globe with our collection of tutorials and recipes, as well as memories and stories about what Christmas means to our contributors.
Get to know our contributors and share the Christmas spirit at this very special time of year!
Find out more information here.
Simply Perfect Party Cakes For Kids (Zoe's Partycakes Für Kids) – German Edition.
Einfache Schritt-für-Schritt-Anleitungen zum Herstellen von fantastischen Kuchen fur unvergessliche Kinderpartys.
Available to purchase here.
Chic & Unique Vintage Cakes (Zoe's Vintage Cakes) –  German Edition.
Das Buch ist die deutsche Ausgabe des Bestseller Chic & Unique Vintages Cakes von Zoe Clark.
Available to purchase here.
Chic and Unique Wedding Cakes
30 Modern Designs for Romantic Occasions:Packed with unique cake designs for weddings and romantic occasions the book features 10 chapters, each with a stunning main cake design and two coordinating smaller treats, including cupcakes, mini cakes, cookies, fondant fancies and macaroons. Each design is inspired by an item from your wedding, such as the stationery, the flowers, the venue and, of course, the wedding dress.
Chic & Unique Vintage Cakes
From elegant tiered lace and floral cakes to amazing jewellery box and carousel shaped novelty cakes, each of the 10 incredible cake designs is accompanied by two smaller designs.
The book also includes all the cake recipes you need, and simple step by step instruction for all the essential cake decorating techniques, from covering cakes and stacking tiered cakes, to piping royal icing  and stencilling.

Chic and Unique Celebration Cakes
Cake decorating is the perfect way to celebrate at any time of the year,and this book is packed with colourful cake designs for every occasion. Features 10 chapters, each with a stunning main cake design and two co-ordinating smaller treats, including cupcakes, mini cakes, cookies, fondant fancies and chocolates.
Cake Decorating at Home (Decorare I Dolci in Casa) – Italian Edition
30 squisite ghiottonerie preparate in casa per deliziare i vostri amici e familiari tutto l'anno.
Available to purchase here.
..
..
Chic & Unique Vintage Cakes (Vintage Cakes) – Spanish Edition
De elegante encaje con gradas y pasteles florales a joyero increíble y pasteles de la novedad en forma de carrusel, cada uno de los 10 diseños de la torta increíbles se acompaña de dos diseños más pequeños. El libro también incluye todas las recetas de la torta que usted necesita, y simples instrucciones paso a paso para todas las técnicas esenciales de decoración de tortas, de cubrir pasteles y tortas con gradas de apilamiento, para tuberías formación de hielo real y colocación de letreros.
Simply Perfect Party Cakes For Kids (Torte per Bambini) – Italian Edition
Collezione di 12 disegni torta facili da realizzare vi mostra che belle torte novità per i bambini è non solo possibile, ma semplice se si seguono queste esercitazioni chiare passo-passo. Questi dolci moderni e desiderabili per le ragazze ei ragazzi sono torta un disegno elefantino, un 3D torta scatola dei giochi, un disegno del giardino incantato e una torta circo di ispirazione per i bambini più piccoli, nonché una torta surf, torta paintball e torta make-up per i bambini più grandi. Zoë anche insegnare come fare 'a sorpresa dentro' dolci, che rivelano un modello quando si taglia nella torta.